Despite a decrease in the investment numbers during the second quarter of 2022 and signs of a possible crisis in the startup market, Venture Capital funds have not slowed the pace of fundraising. So far*, US VCs have raised $137.5 billion, nearly matching the total of $142.1 billion raised in 2021. Dig deeper!

*July 2022
The first half of 2022 has been uncertain in the global startup market, raising questions about this industry's stability. In recent months we have seen a drop in funding, and investors have become more cautious regarding investments.
Despite a scenario that pointed to an imminent crisis, recent news shows that Venture Capital funds have not slowed down their pace of funding, a positive sign for the industry.
So far (July 2022), the amount raised by American funds counts US$137.5 billion, revealing a promising future, even after a sharp global drop in the second quarter of 2022, when investments fell 27% compared to the previous year (see chart below).
Follow the chart to see the VC's investments in the last two years!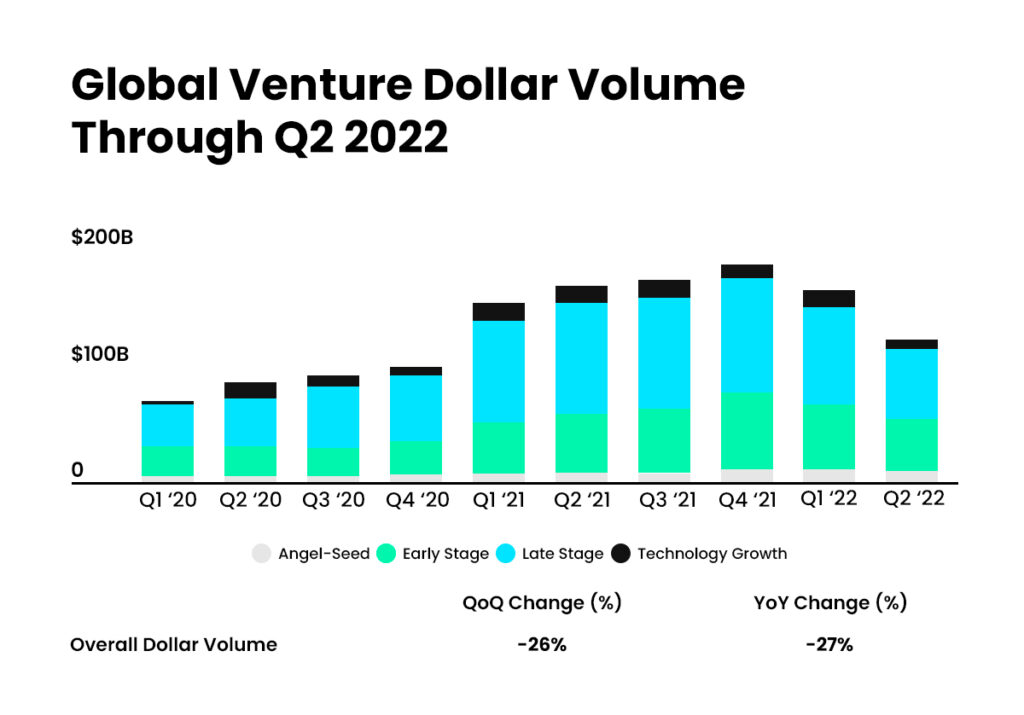 We now observe a significant increase in the amount raised by US venture capital funds. As of July 2022, the quantity is approaching the total raised the previous year – $142.1 billion. The numbers are much higher than in 2020 when $86.3 billion was raised.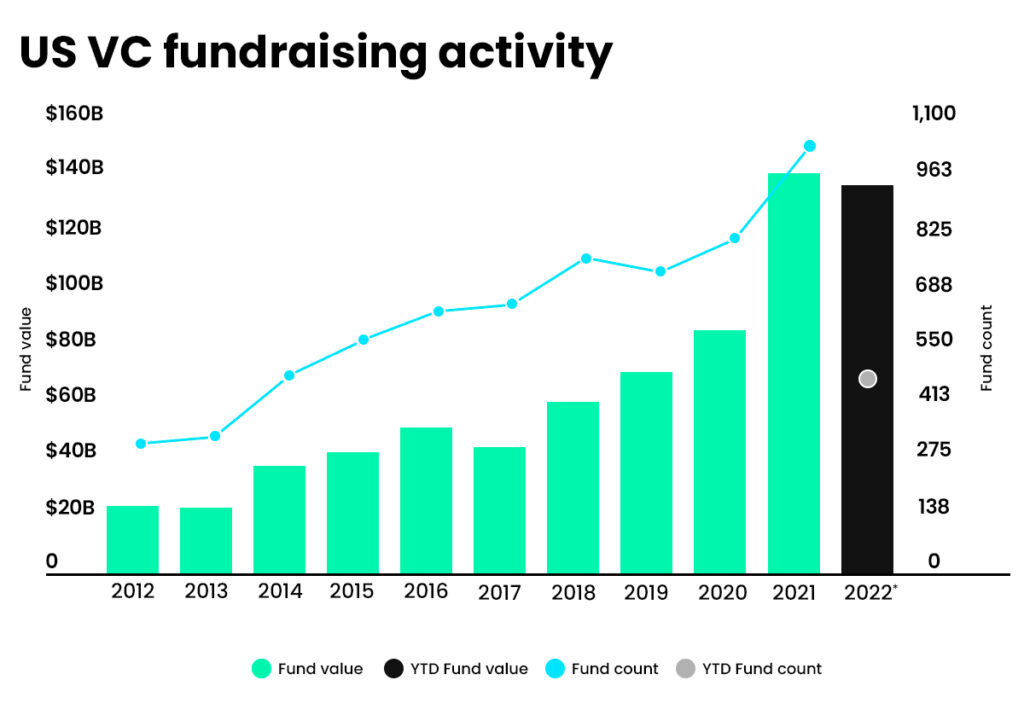 Venture Capital fundraising in detail
Lightspeed Venture Partners has raised over $7 billion to invest in early and growth stage startups. The amount is a result of fundraising from several funds, including:
– Venture Partners XIV-A/B, L.P. ("Fund XIV") with $1.98 billion
– Lightspeed Venture Partners Select V, L.P. ("Select Fund V") with $2.26 billion
– Lightspeed Opportunity Fund II, L.P. ("Opportunity Fund II") with $2.36 billion.
Battery Ventures also drew attention with total fundraising surpassing $4 million, an amount raised by several funds. and the amount raised by 2022.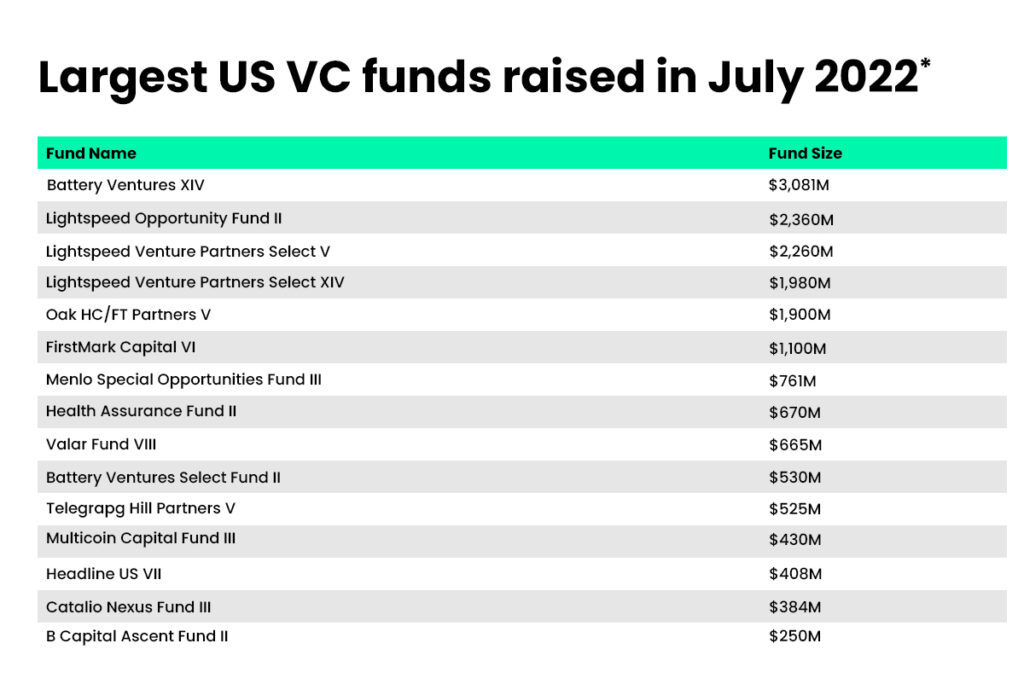 Straight from the source – Bernardo Brites, CEO at Trace and Mercedes Bent, Partner at Lightspeed
Despite the drop in investments during the second quarter of this year, we have signs that VC funds will continue seeking investment opportunities globally. The second half of 2022 may represent a good time for Latin startups to seek foreign investors.
Mercedes Bent, Partner at Lightspeed, gave an exclusive statement to Trace about her vision and expectations regarding Latin America: "At Lightspeed we believe LATAM is one of the most compelling underinvested in regions of the world. The last 3 years we've spent in the market making a half dozen concentrated bets (and dozens of scout checks) has confirmed the strength and tenacity of the founders we saw years ago. Founders are leapfrogging and innovating home-grown solutions in fintech, crypto, logistics & commerce. We're here to stay and excited to increase our investment activity in LATAM going forward".
Bernardo Brites says: "VC funds are poised to break a record this year. There's a lot of dry powder in the market, VCs will keep investing and great founders will get funded, it's their business, the real question that founders and VCs are trying to answer is: at what terms":
For these reasons, it is worth keeping an eye out for new funding opportunities with American funds for your startup. For that, it is also worth identifying at which times the market is opportune.
Reasons to make an investment round abroad
Find out other reasons to make an investment round abroad in Trace's blog, and understand how this practice can be positive for your business. One is the investors' FOMO, who do not want to miss out on the news from Latin American countries – a region noted for its growing technological development.
To stay on top of more topics about the startup ecosystem, subscribe to our newsletter!